Ripple It is aiming to regain $0.60, but leading crypto analyst EGRAG believes that the asset's rise to this level depends on breaking the $0.55 resistance.
EGRAG explained this in a recent analysis of XRP's price movements after the asset broke above a multi-month downtrend. The latest views build on a previous post in which the analyst noted two descending trend lines that are hindering XRP's rise.
Ripple's Position in DTL A
Three days ago EGRAG reported that XRP was testing to rise above the Descending Trend Line A (DTL A). emphasized. According to him, if XRP encounters resistance and falls further below DTL A, it could drop to lows of $0.43.
However, if XRP successfully breaks above DTL A, EGRAG suggested that the asset could rise to the $0.59 threshold reflecting the Fibonacci level at 0.382.
Following EGRAG's initial analysis, XRP recorded three major intraday gains between September 18-20, up 5.72%. This impressive rise has seen XRP reclaim the $0.52 price zone for the first time this month.
XRP May Face Resistance at $0.55
EGRAG's latest analysis confirmed that XRP's recent modest rally helped push the asset above DTL A. He acknowledged that the break above DTL A was a very significant shift for XRP and signaled a more impressive rally in the asset's price.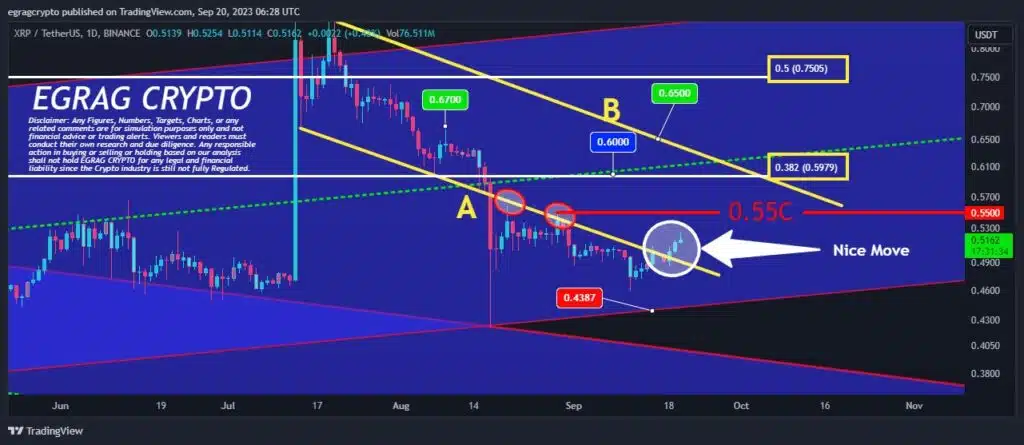 However, amid this sustained rally, he warned that XRP would face fierce resistance at $0.55. XRP last saw the $0.55 level on August 20, when it rose to $0.5582. However, the asset witnessed resistance at the level that saw it drop to $0.50 the next day.
EGRAG believes that the key to regaining the $0.60 point is the correction of $0.55. If XRP breaks above the $0.55 resistance and turns it into support, it could use $0.60 as a launch pad based on the $0.382 Fibonacci level.
The analyst's long-term projection for XRP remains bullish as he expects the asset to eventually rise to the Descending Trend Line B (DTL B), the second trend line on the chart.
In its previous analysis, EGRAG stated that XRP could rise above the $0.65 – $0.67 zone on DTL B. When this happens, it could pave the way for a rise to $1. XRP is trading at $0.5103, down 0.72% in the last 24 hours.