cryptocurrency As the market continues its turbulent days, institutional investor entry into the digital asset market continues to increase. According to CoinShares' latest Digital Asset Fund Weekly Flow Report, last week witnessed the continuation of consecutive weekly inflows of US$176 million, marking the eighth consecutive week of positive investment momentum in digital asset products.
This steady series of inflows shows continued interest in the digital asset space, although it lags behind the figures of $10.7 billion and $6.6 billion observed in 2021 and 2020, respectively. As we reported as Koinfinans.com, year-to-date inflows have increased to 1.32 billion US dollars.
Bitcoin continues to lead with inflows of US$155 million, representing 3.4% of total assets under management. However, investors' interest in altcoins continues to increase. Notable inflows recorded for Solana, Ethereum, and Avalanche reached $13.6 million, $3.3 million, and $1.8 million respectively. This diversification trend underscores the growing appetite for a broader range of digital assets beyond Bitcoin's dominance.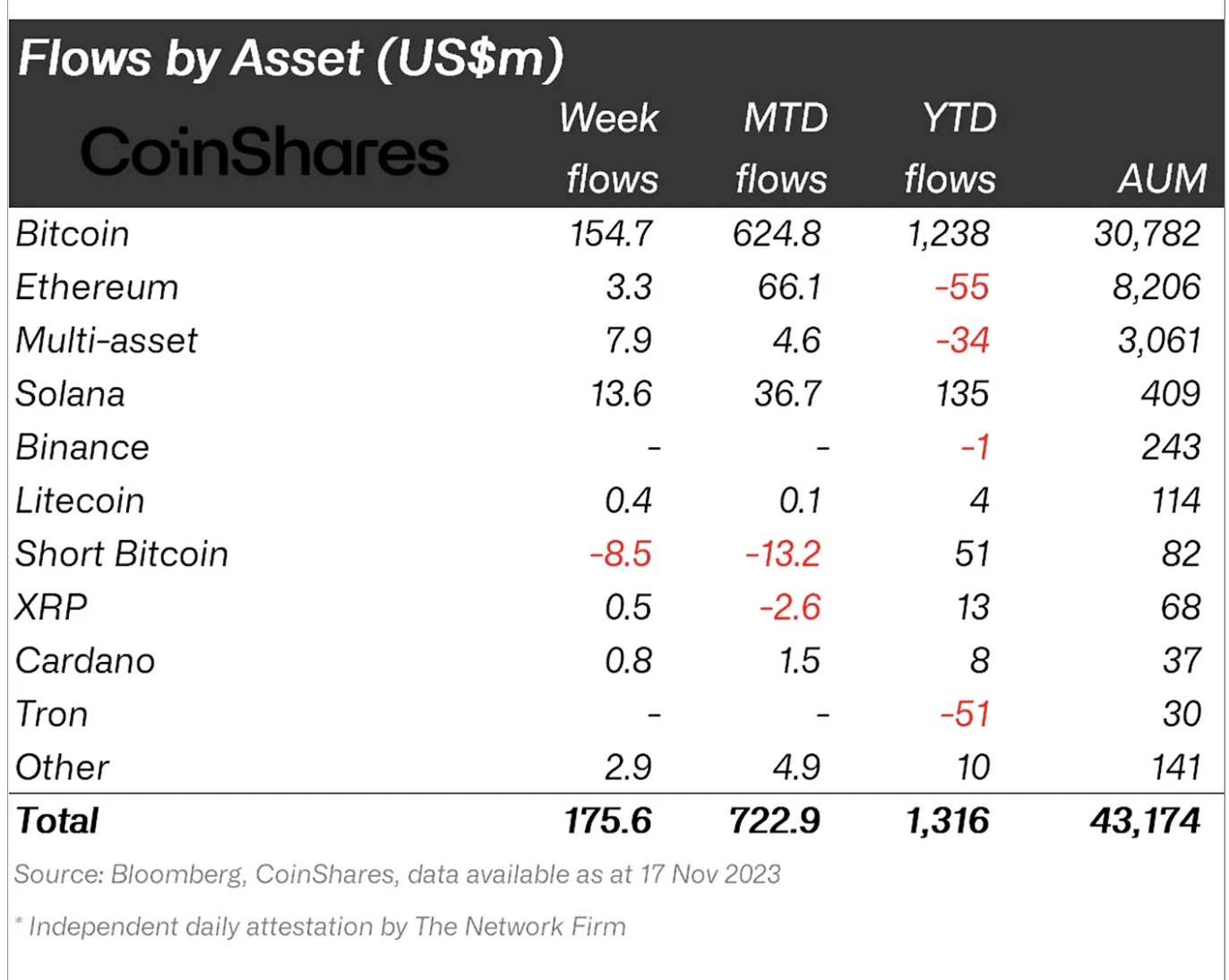 Canada, Germany and Switzerland stand out with inflows of 98 million, 63 million and 35 million dollars, respectively. However, the United States recorded a different momentum, recording a total outflow of $19 million from futures-based products.
The increasing importance of Exchange Traded Products (ETPs) in the overall crypto market is also notable. The report highlights that ETPs currently hold an average share of 11% of total crypto volumes, significantly exceeding the long-term historical average of 3.4%. This increase in ETP volumes reflects a growing investor interest and confidence in these investment instruments, which are notably higher than the averages observed during the 2020/21 bull market frenzy.
Despite the overall positive sentiment, the report noted minor outflows from some altcoins such as Uniswap and Polygon of $0.55 million and $0.86 million respectively.