The Shiba Inu (SHIB) community has experienced a significant increase in token burns in recent weeks. Shiba Inu's weekly cremation rate has increased by 37.14% after more meme coins were cremated in the last seven days. This development attracted the attention of participants and investors in the Shiba Inu ecosystem.
An impressive total of 782,347,341 SHIB tokens were burned in a total of 75 transactions over the last seven days. This equates to approximately $5,797 in dollars. In the previous week, approximately 570,455,129 SHIBs were burned. This represents a significant increase reflecting the SHIB community's growing interest and involvement in token burning.
In the last 7 days, there has been a total of 782,347,341 $SHIB tokens burned and 75 transactions. #shib pic.twitter.com/mPoNk8c7kv

— Shibburn (@shibburn) September 24, 2023
On the other hand, the daily burn rate decreased by approximately 67%, indicating a decrease in the amount of SHIB burned daily. Only 79,598,642 SHIB tokens were burned in 11 transactions in the last 24 hours, which amounts to only $589.
Token burning ensures that the Shiba Inu ecosystem faces a more limited supply, which can increase the value of the SHIB token. Additionally, token burns are considered a sign of the community's commitment and trust in the long-term project. Therefore, these recent token burns by the Shiba Inu community create a positive atmosphere about the future of the project.
Shiba Inu volumes increased by 103%
According to CoinMarketCap data, Shiba Inu trading volume has increased by 103% in the last 24 hours as investors continue to bet on the SHIB price. Transaction volume refers to the total volume of coins exchanged between buyers and sellers. Volume is often a double-edged sword because it shows both buy and sell side transactions.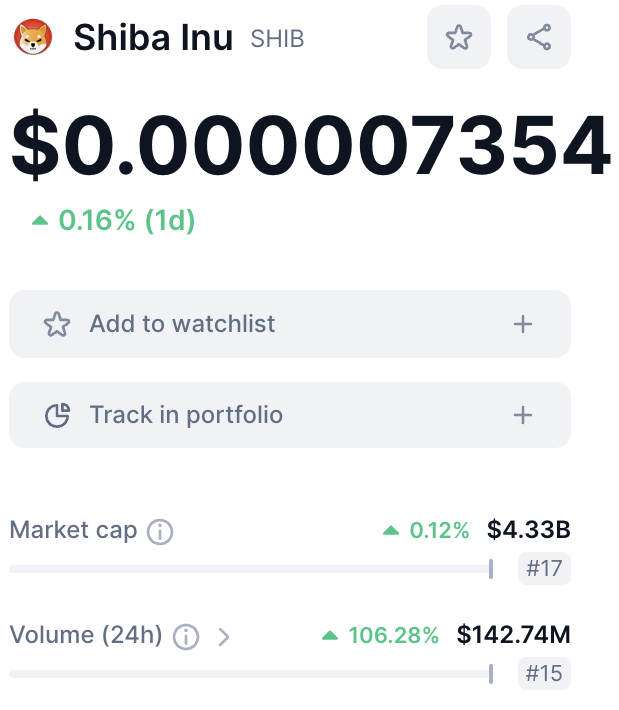 Shiba Inu rose as high as $0.0000077 on September 23, consolidating the previous day's gains; but the bulls could not maintain their superiority.
The popular meme coin is trading at $0.0000073, up marginally in the last 24 hours.
Shiba Inu remains in a narrow trading range; A break above the daily moving averages 50 and 200, located at $0.0000082 and $0.0000088, could signal a breakout from this range.
You can follow the current price movement here.