The cryptocurrency world is talking about an important transfer of Shiba Inu (SHIB) today. According to notifications by Whale Alert, which tracks details of major crypto transactions, exactly 4,595,530,677,374 SHIBs were moved from the Bitvavo exchange. At the time of transaction, these meme coins were worth a total of $33,377,339.
🚨 🚨 4,595,530,677,374 #SHIB (33,377,339 USD) transferred from #Bitvavo to unknown wallethttps://t.co/THVHI1QCE7

— Whale Alert (@whale_alert) September 22, 2023
According to Etherscan, the wallet from which the SHIB tokens were transferred (0xfd557a929CC7c11111e655348774f8a790D3eA5F) only holds one token. It currently holds 4,595,530,677,374 SHIBs; This is the same amount transferred earlier today.
This huge amount caught the attention of the cryptocurrency community and fueled speculation regarding the Shiba Inu (SHIB). The latest transaction has stirred the market, with theories ranging from a potential sell-off to a whale redistributing cryptocurrency holdings. However, the real story behind this giant transfer becomes quite interesting when delving into the details. Research shows that this large transfer is actually related to the internal operations of the Bitvavo exchange. Bitvavo is redistributing the Shiba Inu supply by transferring exactly 4.5 trillion SHIB tokens to one of its wallets.
Meme Coin Burn Rate
According to data provided by the Shibburn platform, an impressive 236,103,226 SHIBs have been removed from circulation in the last 24 hours. This increase increased the overall burning rate by 22.22% compared to yesterday. Meanwhile, the two most significant portions of SHIB burned in this transaction were 191,531,588 and 15,774,071 respectively.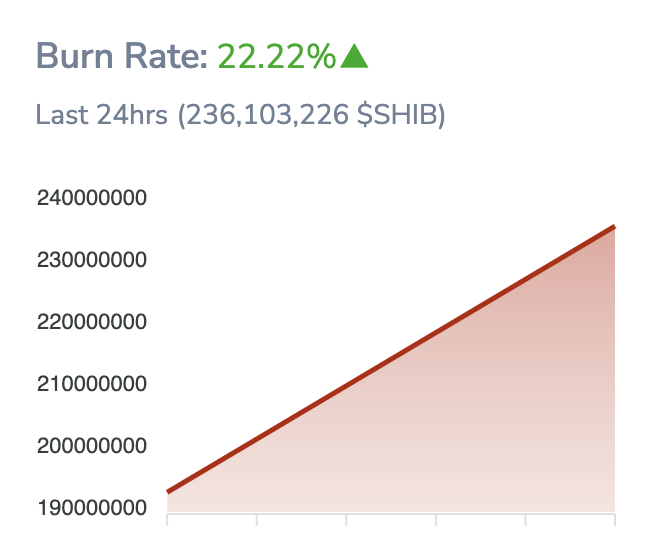 You can follow the current price movement here.