While Bitcoin tries to maintain the price level above $27,000, Ethereum It is also trying to cross the critical $1,650 threshold. Amid the increasing volatility, whales are not standing idle. Even the inactive ones are now playing important games. With a noticeable increase in large-scale transactions, traders are wondering if further volatility is ahead and what Ethereum's next move will be.
Whales Are Frequently Emptying Their Possessions
While many retail investors were cautiously bullish on ETH trading around $1,650, it was the whales that really caught the eye. Sudden buying and selling activities caused increased volatility on the price chart, forcing the ETH price to fluctuate sharply near critical levels.

According to the latest figures from Coinglass, ETH open interest (OI) surged by $100 million in just a few hours. As the price of ETH approaches a critical level of $1,650, traders are increasingly taking positions in anticipation of a significant price change.
However, ETH faces potential sell-off risk as whale activity raises alarms.
On-chain metrics show a significant increase in large transactions, jumping from 1,210 to 2,590 in just 48 hours. Moreover, the total value of transactions carried out by whales almost doubled, from $971 million to $1.9 billion. This created uncertainty on Ethereum's price trajectory.
An Ethereum whale that has been dormant for two years became active again four days ago. This whale moved 10,000 ETH ($16.5 million) from his wallet to Binance, OKX and KuCoin. Today the same whale transferred another 10,000 ETH.
Separately, another ETH whale who participated in the 2014 ICO and held approximately 254,908 ETH (worth approximately $422.6 million) deposited 6,000 ETH (approximately $10 million) on the Kraken exchange.
The activities of both whales could significantly increase selling pressure and potentially drive the price of ETH down as supply exceeds demand.
What's Next for Ethereum Price?
altcoinThe current price is facing resistance at the key 20-day EMA level as it experienced a sell-off near the $1,660 level. Despite this, the uptrend remains strong, preventing a sudden decline and indicating the potential for a recovery. At the time of writing, ETH price is trading at $1,645, down over 0.6%.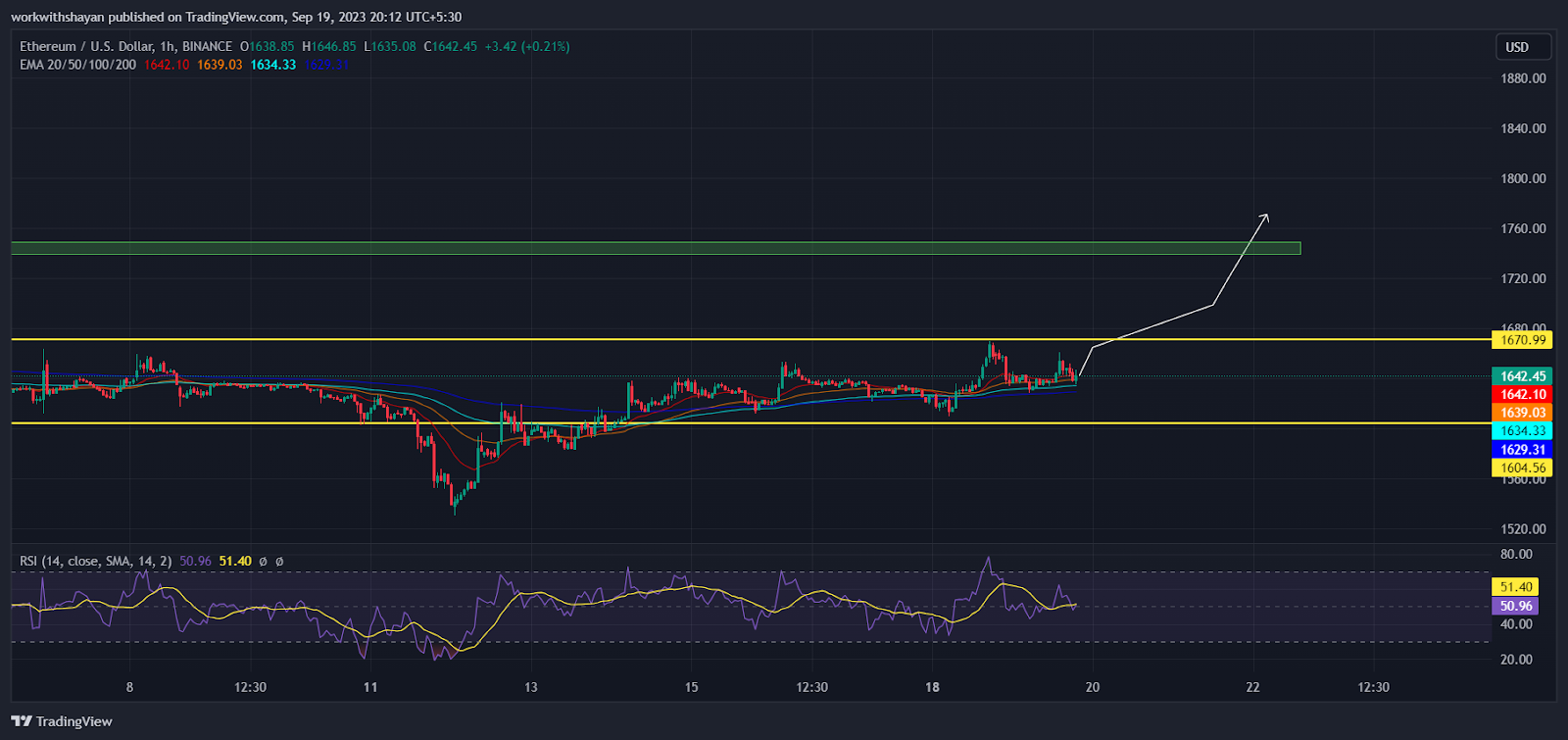 The 20-day EMA appears to be stabilizing and the Relative Strength Index (RSI) is trending just above the midpoint. This shows that the rise has reversed. If buyers can keep the price above the 20-day EMA, Ethereum could retest the important resistance at $1,670. If successful, the bulls could pull the price north to break the $1,750 level. However, the bears will defend this level aggressively.
On the other hand, bears may have different intentions. They may try to push the price below the 20-day EMA, aiming to catch bullish traders off guard. A break below $1,604 could trigger a decline towards the potentially strong support level at $1,530.