A closely followed crypto strategist thinks there could be a big change in trend for Bitcoin (BTC). The analyst makes a remarkable price prediction in this direction.
Crypto analyst Kevin Svenson said in a new video that there is currently a bullish macro exchange for Bitcoin.
"We are now breaking the largest descending wedge pattern in Bitcoin history. It stretches from 2021 to 2022, to 2023… We are starting to break. Of course we have to make some daily and weekly closes above this trendline, but this could be a huge paradigm shift for Bitcoin price. And really, the most interesting part about it is, if you base the target on the descending wedge pattern and bring it into the breakout zone, it goes over $50,000. (…)

The target of the biggest falling wedge in Bitcoin history is $50,000."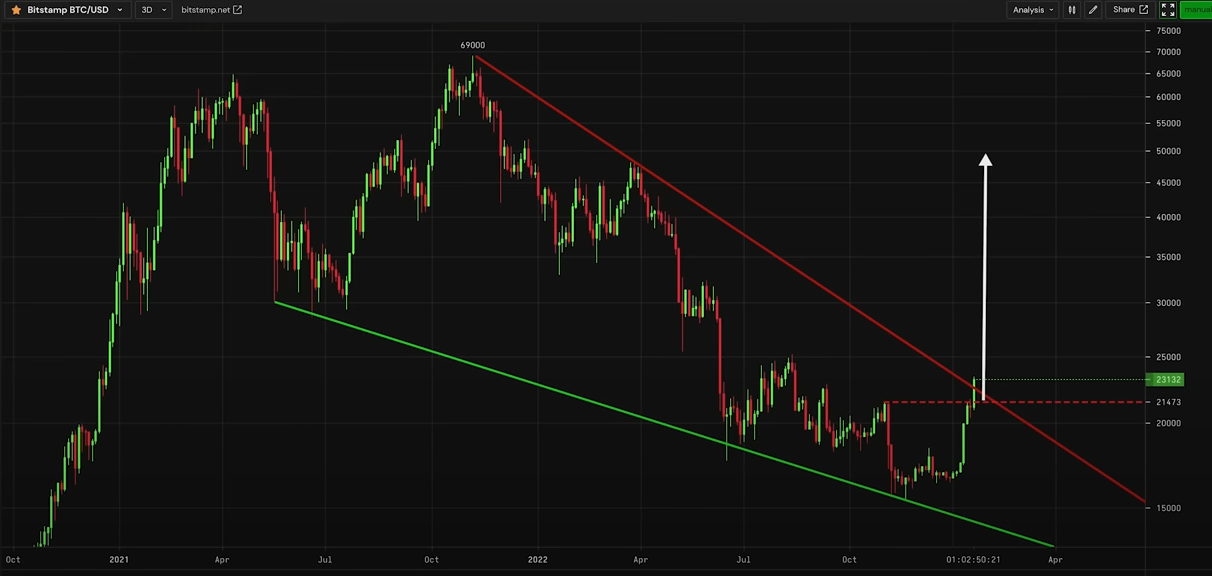 A descending wedge pattern is a continuation pattern that occurs after a significant upward price move. A free fall after a key resistance level leads to a period of consolidation as the bulls prepare to take control. A breakout is usually expected when the price crosses the upper trend line. In other words, the formation of a descending wedge can be interpreted as an upward trend in prices. If this pattern is formed to the downside, this formation indicates that the trend will change.
In a YouTube video he shared later, the analyst emphasized that he did not see the Bitcoin price surge to $50,000 as something that could happen immediately.
"Bitcoin will probably take a long time to get there, and prices like $50,000 are utterly ridiculous to most people. But this is what Bitcoin usually does. Bitcoin does what is often thought not to be done."
At the time of writing, Bitcoin is trading at $22.801, well above Svenson's diagonal resistance.
You can follow the current price action here.