A widely followed crypto analyst has warned traders that he has six reasons for Bitcoin (BTC) to drop.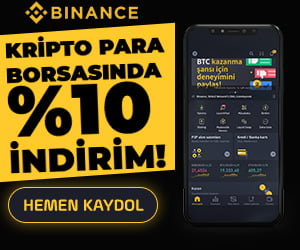 The analyst, known by the name CryptoCapo, reported his 315,700 Twitter followers in a six-part series of tweets that there is reason to believe BTC will hit new lows soon. warned.
"BTC – Some of the reasons I think we should see new lows in the coming days
1) BTC broke the 30k support zone, which is the main axis of the bull run. This is a region, not a level. If we take all the wicks into account, it's between $29,000-31,000. It is now testing that area for resistance."
The trader referred to a tweet from 10 days ago and explained why BTC could not maintain the $30,000 support level in the said tweet:
"Why do I think the 30k level will not be maintained?
-Tested many times, so it is weaker now. This is the 5th exam
-There is not enough demand at this level
-Comes from high range divergence and bear flag
-Sales pressure is still high"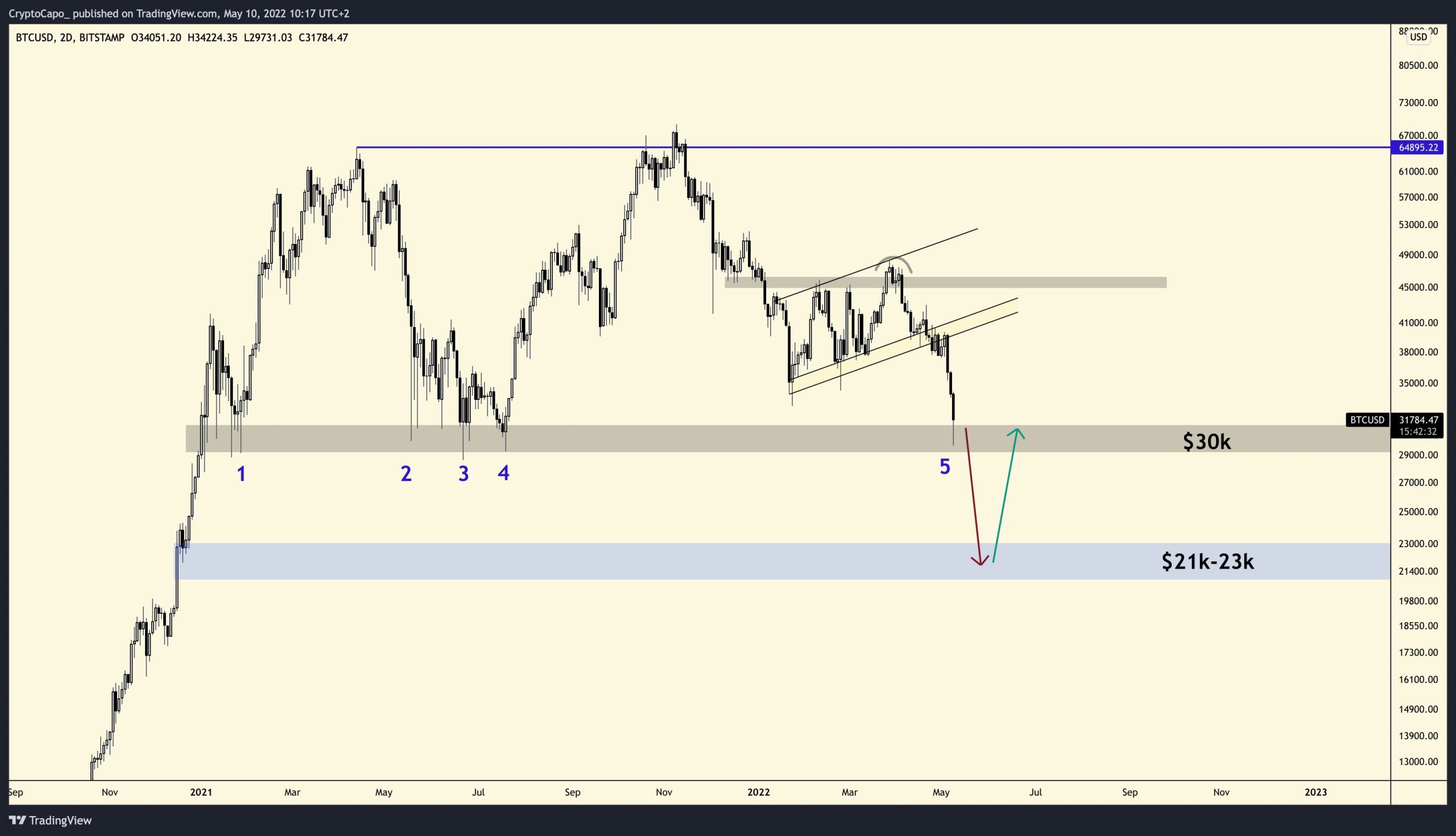 Capo's second reasoning has to do with a bear flag signal he referred to in late April 2022. The trader believes that the minimum price level of the bear flag pattern has not yet been reached and BTC will continue to drop.
"2) The minimum target of the bear flag has not yet been reached ($23,000). You can also see this in altcoins where some of the main targets have not yet been reached."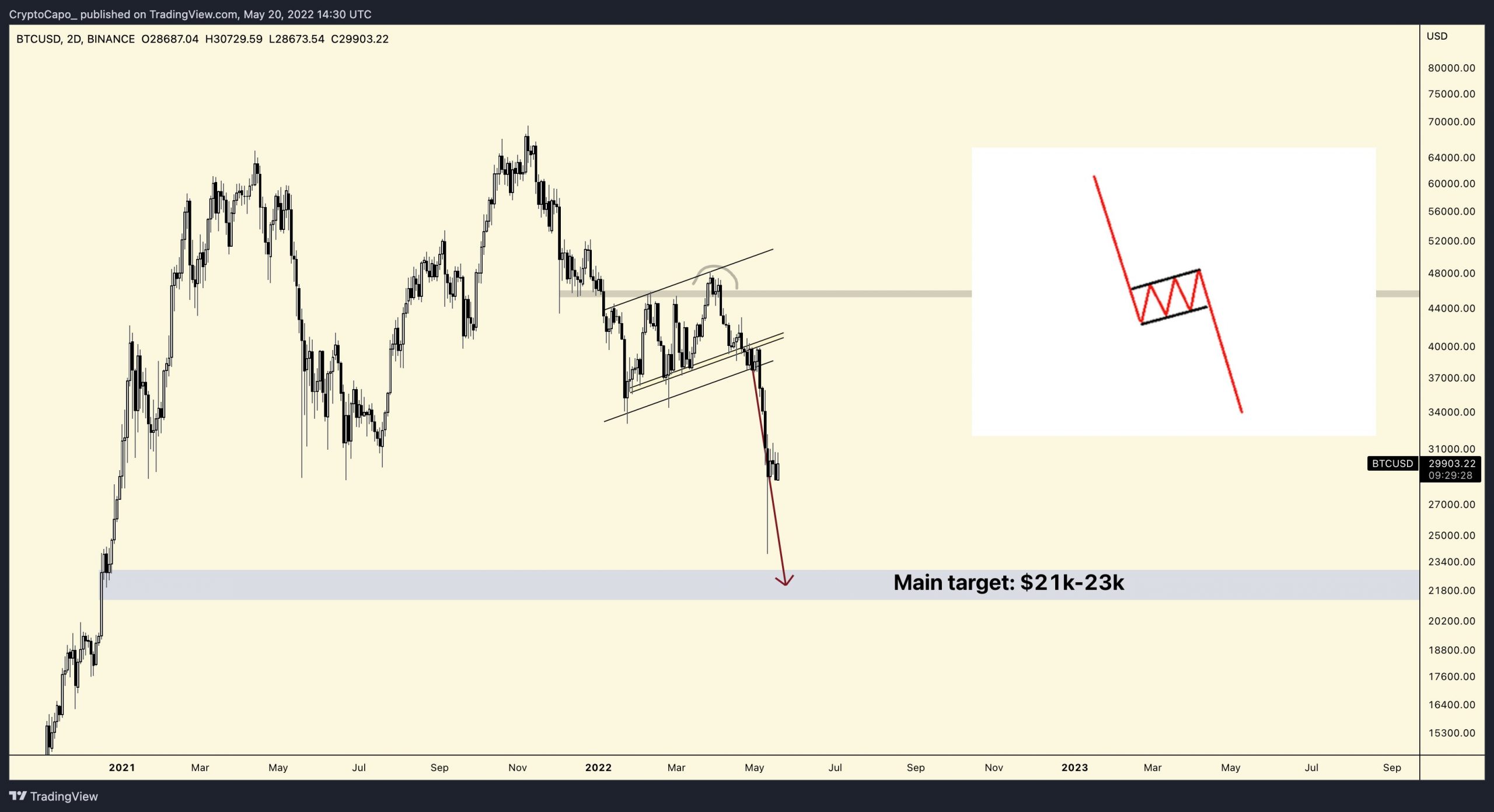 CryptoCapo then looked to Bitcoin funding rates as another indicator that explains why current rates are pointing to the bottom. The analyst watches the Bitcoin open interest (OI) chart.
"3) Funding rates have always remained neutral/positive. You want to see very negative funding rates to create a bottom. We haven't seen this yet. Also, the OI did not show a spike (no big drop in OI)."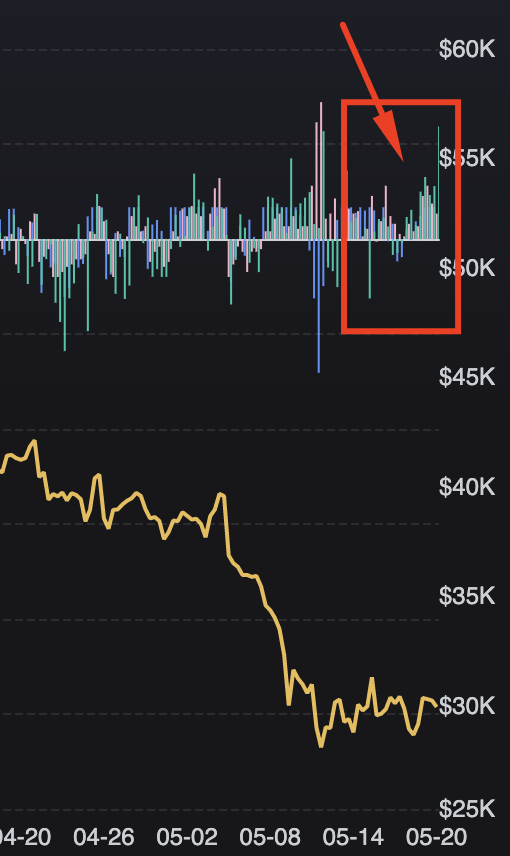 The crypto trader then reviewed the Altcoin Perpetual Futures Index (ALTPERP), which tracks the price of leading altcoins, including Ethereum (ETH).
"4) ALTPERP is in the danger zone. It broke the key level and the next support is 35-40% lower. This matches the main goals of most subclasses and makes a lot of sense."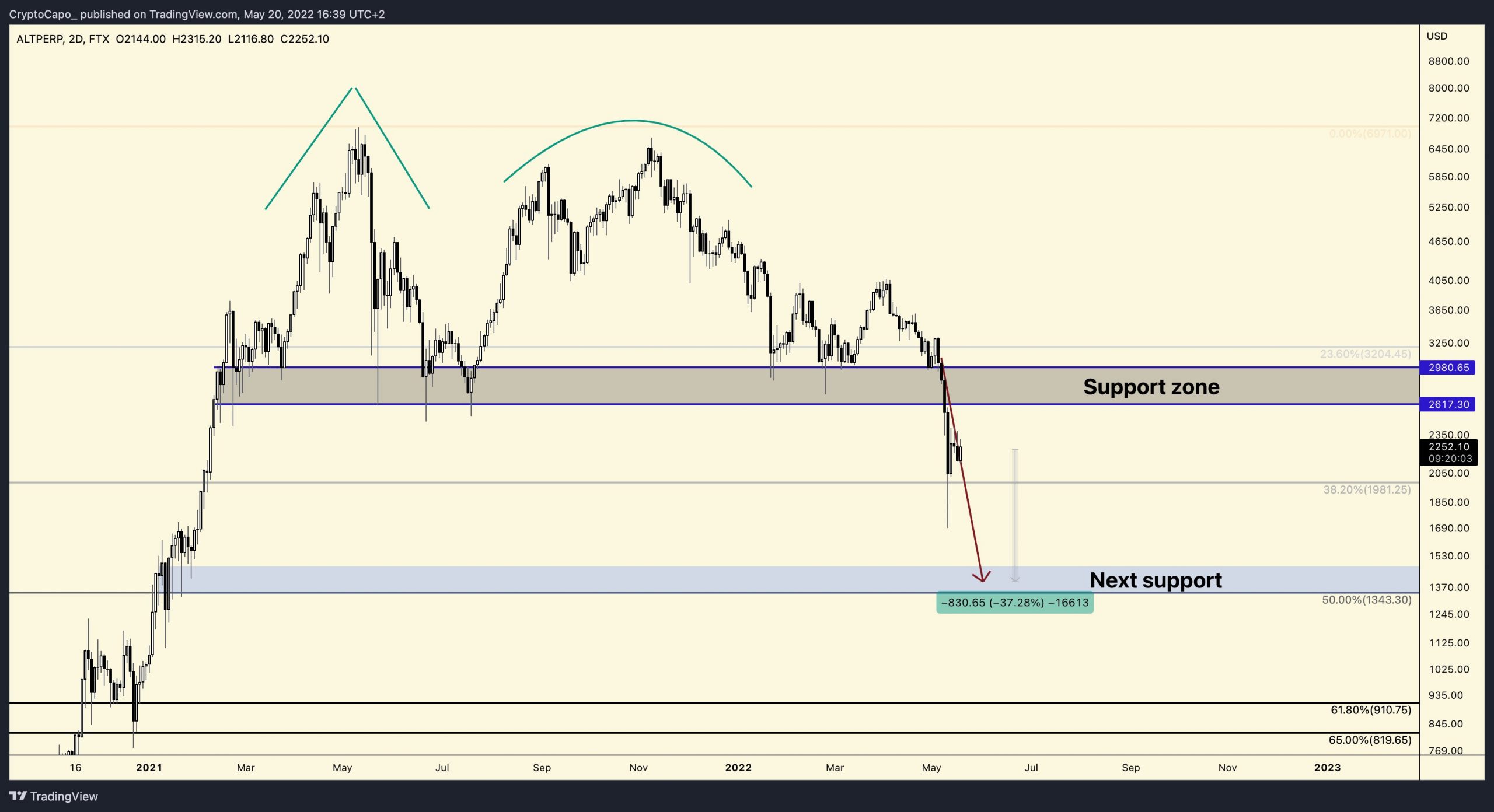 Evaluating stocks, Capo said that, along with the bearish Standard & Poor's 500 Index (SPX) and the bullish US Dollar Index (DXY), it is a bad omen for Bitcoin.
"5) SPX and DXY SPX are indeed bearish. It's breaking supports like butter and the downtrend is getting stronger. Meanwhile, DXY continues to make higher highs (higher high than the previous one) and higher lows (lower high). It broke previous highs and is now using them as support."
Finally, the crypto trader looks to BTC heatmaps, an asset liquidity indicator, as the sixth and final reason why he thinks Bitcoin will hit new lows in the coming days.
"6) Heatmaps show a bearish trend. You can clearly see a lot more supply than demand and some of the demand is weakening/declining. Some examples are below."
6) Heatmaps look bearish.

You can clearly see much more supply than demand, and some of the demand is getting weaker/moving lower.

Some examples below. pic.twitter.com/Xzp8Qzeqw7

— il Capo Of Crypto (@CryptoCapo_) May 20, 2022
You can check the price movements here.
Disclaimer: What is written here is not investment advice. Cryptocurrency investments are high-risk investments. Every investment decision is under the individual's own responsibility. Finally, KoinFinans and the author of this content cannot be held responsible for personal investment decisions.