dogecoin It is drawing a downward "spiral" and is trading at $0.062 in September 2023. Meme coin is among the lowest-performing assets this year as it has been declining for nearly eight months. As the excitement about DOGE decreases, the downward trend in the indices is noticeable.
Although 2023 is a bad year for meme coin, it seems that the situation may change in the coming years.
Finder's panel of experts remains bullish on Dogecoin despite its poor performance on the charts this year. According to Finder's price prediction, DOGE price In the next two years, it could reach $0.33 in 2025. This represents an increase and return on investment (ROI) of approximately 430% from its current price of $0.062.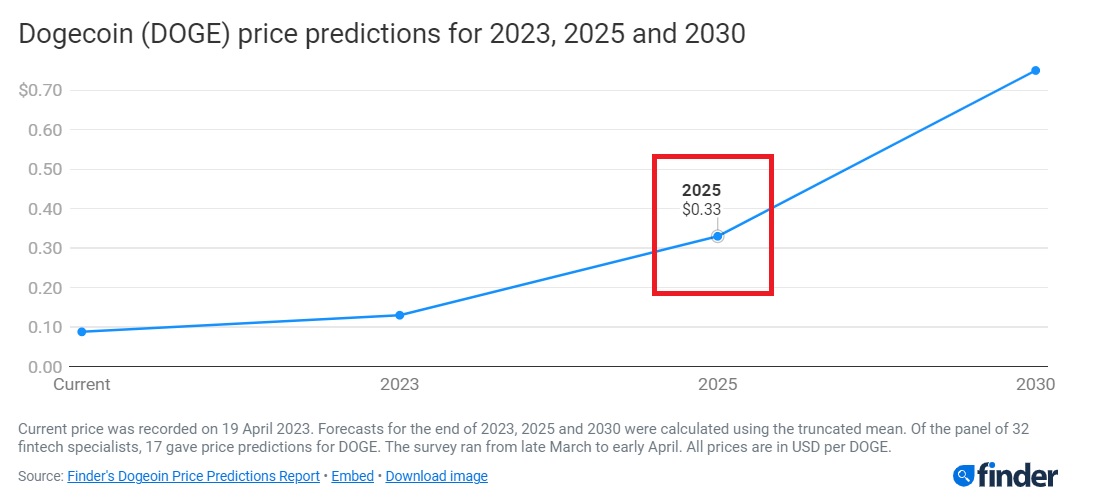 "Although most people think that Dogecoin is a joke and therefore should have no value, humor has real market value," Ruadhan O said. "Sober experts who don't see value in a joke are those who don't understand the market forces involved," he added.
However, thorough research is recommended before taking an entry-level position at DOGE. cryptocurrency Markets are highly volatile and can lead to significant losses in either direction. There is no guarantee that DOGE will be able to rise above $0.30 at any time in the future, let alone until 2025.