The Shiba Inu (SHIB) community witnessed the removal of 30,022,044 (30 million) tokens from circulation in the last 24 hours, which represents a 317% increase in burn rate compared to the previous day. This increase came at a time when the meme coin price was aiming to conquer the $0.0013 price zone.
As announced today by Shibburn, a community-focused platform dedicated to tracking Shiba Inu burns, 30 million tokens were burned in 8 transactions.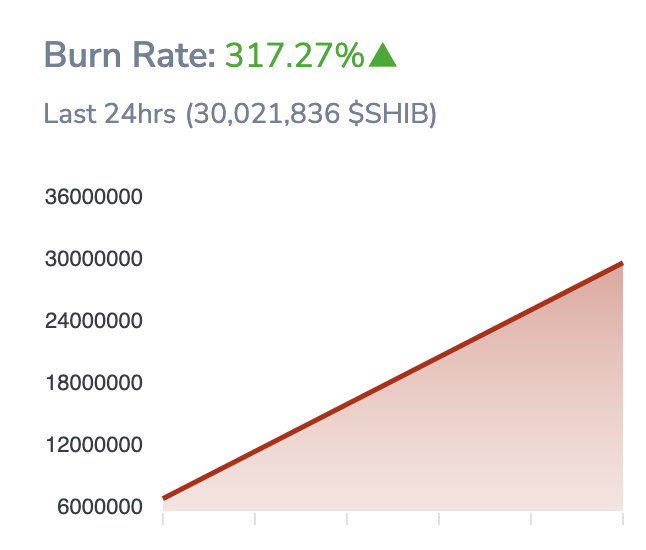 Among these burns, four important burning transactions, which removed a total of 26.3 million tokens from circulation and constituted a large part of the total amount burned, drew attention. The earliest of these transactions involved a burn of 1,648,087 SHIB 20 hours ago. The second transaction attracted attention, with 6,787,709 tokens transferred to the dead-unused wallet yesterday at 21:31 (UTC). Only three hours later, at 23:55 GMT (UTC), another major burn took place, with another 7,991,050 SHIB burned. The fourth burn was the biggest burn in the last 24 hours with 10,105,451 meme coins.
SHIB Community Continues Burning Campaign
The meme coin community pursues its goal of reducing the supply of the asset as its price movements are campaign dependent. Last week, the burn rate rose with the asset's price increase. The development team also recently revealed how they plan to burn SHIB with the highly anticipated Shibarium layer-2 solution. Also, as Shibarium promised native support for NFT functionality, several platforms were launched in preparation for the layer-2 network. Notably, Pawzaar, an NFT marketplace, has announced that it will burn SHIB for every NFT transaction on its platform once Shibarium becomes available.
Shiba Inu Price
Besides these, significant resistance was encountered on SHIB's journey to reclaim the $0.00013 price point, but the bulls remain persistent. Despite trading sideways in the last hour, the asset seems to have gained 16.73% over the past 7 days. Notably, SHIB enthusiast David Gokhshtein recently stated that he will retire once the asset reaches $0.01.
Whale Operations
One of the largest Ethereum (ETH) whales in existence is stuffing their bags with Shiba Inu (SHIB). According to blockchain tracking platform WhaleStats, the large Ethereum whale currently holds more than 18 trillion SHIB.
75% of the entire portfolio of the whale, whose identity is not yet known, is made up of meme coins, excluding the ETH part.
CoinMarketCap data reveals that the whale in question is the sixth largest owner of SHIB, with 1.88% of the meme coin's total supply.
Based on data from WhaleStats, other Ethereum whales also appear to be aggressively accumulating SHIB. Whalestats recently stated that SHIB is currently the largest investment among the 1,000 largest Ethereum whales excluding stablecoins and ETH itself. reported.
You can follow the current price action here.
Source : the crypto basic