shiba inu Burns have been one of the most trusted growth tactics of meme coin. The burning method applied to reduce the current supply defines the token transaction sent to unusable wallets. While this method has been adopted by the community, a large amount of asset burn has been completed so far.
The method, which was initiated to narrow the supply, was also very active in the first days of January 2023. As a matter of fact, the rapid increase in price caused the burning rate to decrease simultaneously.
According to data shared by Shibburn, Shiba Inu burn rate has increased by 303% in the last 24 hours.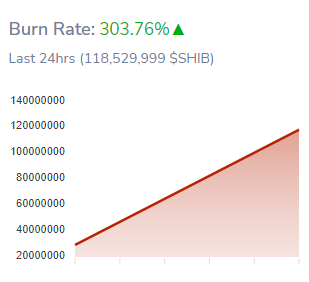 According to on-chain data, only one wallet is 108 million Shiba Inu (SHIB) token burned.
118,529,999 SHIBs have been sent to dead wallets in the last 24 hours. The biggest contribution came from a single wallet. A single transaction five hours ago sent 108,476,685 SHIB to the dead wallet. This single action resulted in a 303% increase in combustion rate.
Despite the burns, the price of the Shiba ınu has not recorded any activity in the last 24 hours. At the time of writing, SHIB has lost 1.43% in the last 24 hours and is trading at $0.00001184. The Shibarium launch that the community has been waiting for is well the biggest catalyst expected right now.