Institutional investors invested big bucks in Solana (SOL) investment products last week. According to CoinShares data, SOL investment products account for 86.6% of the total weekly institutional inflows in crypto investment products.
According to the data in the September 14 issue of CoinShares' Digital Asset Fund Flows Weekly; Specifically, SOL investment products saw inflows of $49.4 million between September 6 and September 10, up 275% week on week. In the same period, the total inflow of digital asset investment products reached $57 million. The price of SOL also increased by 36 percent that week in parallel with the high capital inflows. The CoinShares report concludes:
"Solana's assets under management would rise to $97 million as a result of price hikes and inflows, making it the fifth-largest investment product."
Also, demand for other altcoins has outstripped demand for Ether (ETH) and Bitcoin (BTC) products. Total weekly inflows were also down as ETH dropped 10% over the week. Bitcoin remained stable throughout the week with an inflow of US$0.2 million, while Ethereum experienced minor exits totaling US$6.3 million.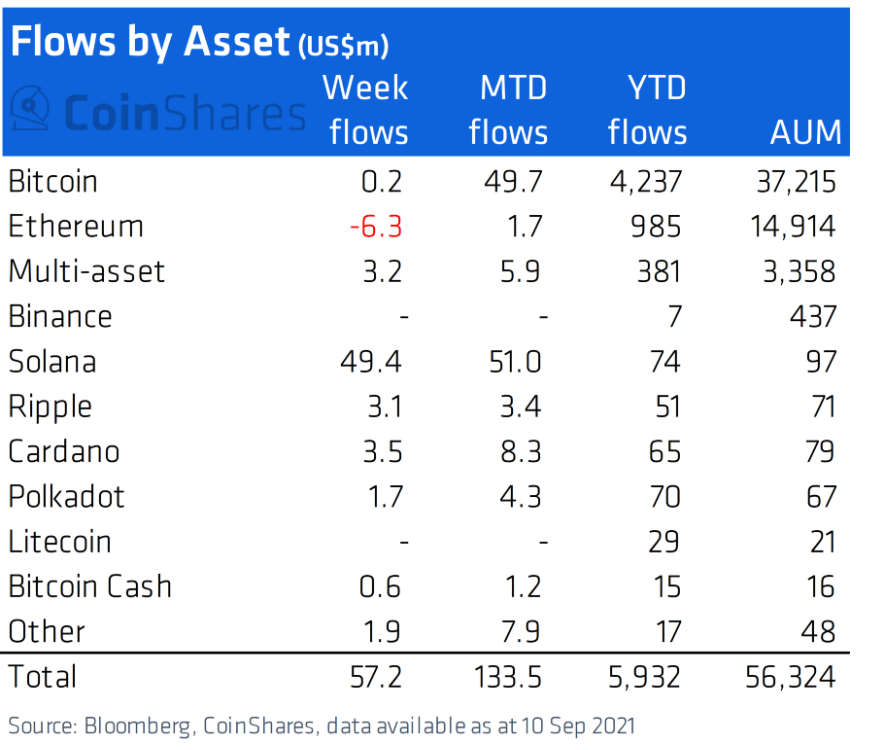 Multi-asset products also contributed to net weekly inflows: Ripple (XRP), Polkadot (DOT) and Bitcoin Cash (BCH) saw inflows of $3.2 million, $3.1 million, $1.7 million and $600,000, respectively. Cardano (ADA) experienced a 46 percent lower inflow of capital compared to the previous week, although the launch of its highly anticipated smart contracts took place on September 13.
As the seventh largest cryptocurrency by market capitalization, Solana continues to reshape the financial world. DeFi Land recently completed a $4.1 million funding round to launch DeFi gaming in Solana. The smart contract platform is also getting involved in NFTs with the help of the music app Audius.
As of writing time, SOL, according to CoinGecko data; It is trading at $157.86, down 0.5 percent on the day. The analyst, nicknamed Smart Contractor, predicts that the network is preparing for another explosive price spike on a new ATH path.
According to CoinShares, institutional investors currently have $56.3 billion in assets under management (AUM). This represents a 9% decrease from the previous week's figure. This drop is attributed to the general pullback in most of the crypto market last week.