A brand new autonomous vehicle move has come from the Honda brand, which understands the importance of electric and autonomous vehicles. Autonomous driving can now be used in areas where the terrain is difficult and difficult, such as construction sites, forest areas. In its statement, the brand stated that the new vehicles to be used in construction areas in the first place will both increase work efficiency and decrease the need for physical manpower. Here are the details about our news…
New site supervisors Honda Autonomous Work Vehicles
Honda attended CONEXPO-CON/AGG 2023, held in Las Vegas last week. It showcased the new capabilities of the latest generation of the prototype Honda Autonomous Working Vehicle (AWV) to improve construction industry and jobsite efficiency.
Looking at the latest developments, we now see that the vehicle provides full range of 3rd level autonomous driving. In addition, the work vehicle, which gains new capabilities, also offers the opportunity to carry more loads within the construction site. The vehicle, whose construction site mapping feature has also improved, can now produce more comprehensive maps.
Jason VanBuren, head of systems engineering at Honda Motor Co., said:
As we continue to advance the Honda AWV platform, at CONEXPO we would like to meet with potential partners and companies interested in testing the vehicle on their own job sites. We believe the Honda AWV can be a valuable solution to support construction crews while increasing job site efficiency and safety. Leveraging Honda's decades of experience in developing reliable, safe and clean mobility technology, we aim to address issues such as workforce shortages and improved environmental performance."
When we list the features of the Honda Autonomous Working Vehicle, the following table welcomes us:
The bed size has been increased to 2 pallets and has a loading capacity of 2000 pounds more.
It has improved navigation service where GNSS (global navigation satellite system) service is weak or unavailable using LiDAR sensors.
Easy to use with simplified tablet-based programming interface and cloud connectivity.
Higher speed in autonomous mode – 16 km/h possible.
Increased battery size and up to 10 hours longer runtime.
Escape software developed against obstacles standing in the way.
Ergonomic loading bed developed for easier loading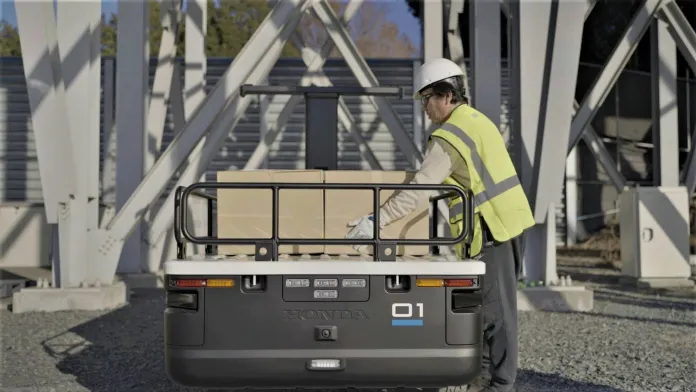 Aiming to commercialize its autonomous work vehicle, Honda is seeking partners to participate in field testing and improve services, particularly in product distribution, product support, after-sales services and software development.
So what do you think about this subject? We are waiting your comments!