shiba inu A meme coin that is very popular with whales. However, it had been a long time since a new SHIB whale appeared. It was finally expected, and a new SHIB whale recently purchased as many as 3.3 trillion meme coins worth $38.9 million.
SHIB had dropped from the $0.000012 zone yesterday, followed by a fresh price increase. The development regarding the whale also came after this price increase. The transaction in question took place about 3 hours ago, according to information received from blockchain monitoring and analysis system Whale Alert. Etherscan data reveals that the sending address moved funds through five different addresses before reaching the final recipient wallet.
In addition, the receiving address also collected 1 billion PAW within minutes of accumulating SHIB tokens. With its current balance, the whale address is currently the 30th largest meme coin holder.
PAW tokens currently have no value and it is unclear whether they are linked to the PawZone ecosystem. PawZone was recently announced that its official token "PAW" will be released on the upcoming Shibarium layer-2 network.
PawZone is one of many projects showing interest in Shibarium. The creator of PawZone advised investors not to buy fake tokens as their token has not yet been deployed.
It might be a logical move for the whales to get as many SHIBs as possible prior to the launch of the Shibarium. Shibarium was scheduled to launch in Q3 of 2022. Unfortunately, the team has delayed the launch to an undisclosed later date. The launch of Shibarium will result in a reduction in transaction costs and an increase in speed. It can also be considered as a normal situation that this raises expectations.
Meme Coin Burns
A platform that actively performs SHIB burning and can track the amount of SHIB burned by the Shiba Inu community. shibburn According to data shared by Shiba Inu Community, over the last 24 hours, 1,518,829 (1 million) SHIB coins have been burned in 3 different burns. This amount is 44% lower than the previous day.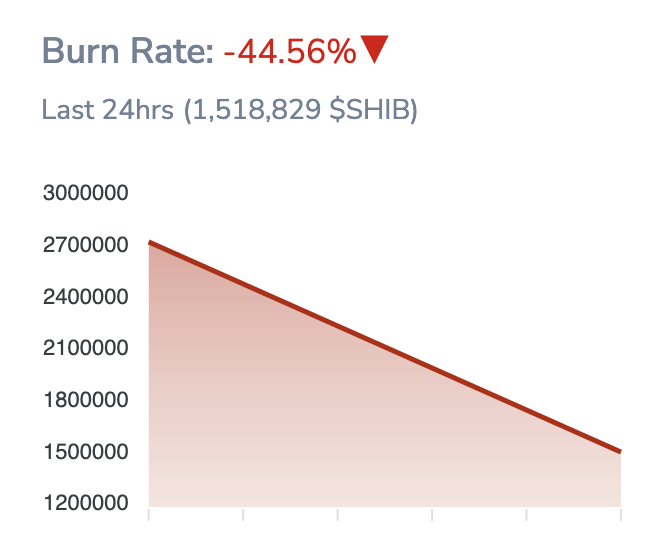 You can follow the current price action here.
Source : the crypto basic