Closely followed cryptocurrency trader Kaleo, Ethereum competitor aptos (APT) shared an important forecast. The trader stated that despite the strong momentum in price, investors should be cautious.
While Aptos has posted triple-digit gains in the past two weeks, analyst Kaleo reiterated his call for caution. According to the analyst, there is a high probability of strong selling pressure in the APT token.
According to Kaleo, Bitcoin is in an uptrend that will result in a "god candle," or the largest candle ever formed on its chart. Aptos, on the other hand, is likely to record a large selling pressure for the Bitcoin (BTC) pair.
"As crazy as the move is, I see a high probability of this being heavily sold to a BTC god candle outside of its current range… At least in terms of the BTC pair, it wouldn't be shocking to see even a slight sell-off in USD terms in a major BTC move."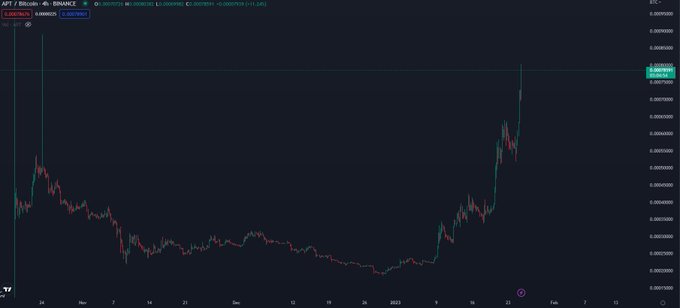 Starting 2023 with a price of $3.45, Aptos recorded a sensational increase of 464%. It has grown rapidly since the day it was first launched, while the price rose as high as $19.47. Altcoin is currently the 28th asset with the largest market cap. It is still trading around $18.2, although the price has corrected a bit.
Earlier this week, Kaleo shared the prediction that Bitcoin will outperform altcoins. While he doesn't think the current Bitcoin rally will hit an all-time high, Kaleo does think that BTC could hit as high as $45,000 before falling below $30,000 in 2023.
"Never in my life have I been as bullish on Bitcoin as I am now for a range that I think will happen in the next few weeks.
I don't think this rally will reach all-time highs. It will more likely peak and trade in the $40,000-$45,000 range for a few months before retracing to the mid-$20,000s later this year. But I really think it's about to accelerate.
I truly believe we will see a great candle of god in the near future."