Over the weekend, a series of crypto markets rose to $1.12 trillion altcoin He recorded impressive performances. But as a new week begins, there are certain cryptocurrencies that market players should pay attention to. These predictions came from a crypto analyst with the pseudonym The DeFi Investor. belongs to.
Crypto Watchlist for the week ahead:$ATOM – Cosmoverse, Cosmos's largest conference, kicks off on Oct. 2. Major news related to Cosmos ecosystem will likely drop$RDNT – Radiant Capital will launch on Ethereum on Oct. 3$SUI – $16.6M worth of SUI will be unlocked on Oct. 3.… pic.twitter.com/yiOIFBZBeQ

— The DeFi Investor 🔎 (@TheDeFinvestor) October 1, 2023
According to The DeFi Investor, Arbitrum (ARB), Chainlink (LINK) and Comsos (ATOM) are some of the altcoins to consider. He supported his projection for some reasons. The analyst noted that approval of the $50 million ARB incentive for Arbitrum could be the catalyst that pushes the price up.
Additionally, The DeFi Investor noted that Chainlink has some big announcements and this could help the price movement. Finally, ATOM's potential upside may depend on the outcome of Comsosverse, which is scheduled to begin on October 2.
At the time of writing, the price of ARB is $0.96 after gaining 3.68% in the last 24 hours. LINK, on ​​the other hand, reached $8 as initially predicted. However, while its price has stagnated, ATOM has increased by 3.77% in the same period.
Chainlink (LINK)
LINK, has been hovering around $7.95 to $8 in the last 24 hours. However, consolidation is not evidence that LINK will continue its sideways movement. In fact, the token's market structure is largely bullish on the daily LINK/USD chart.
Additionally, LINK's Relative Strength Index (RSI) was 67.83. This value indicates a good buying momentum. However, the RSI is close to 70, indicating that LINK may pull back. But this can only occur as a result of some profit taking.
If some selling occurs, LINK could reach $7.80. However, there is a good chance that buying pressure will increase and possibly rise to $8.50.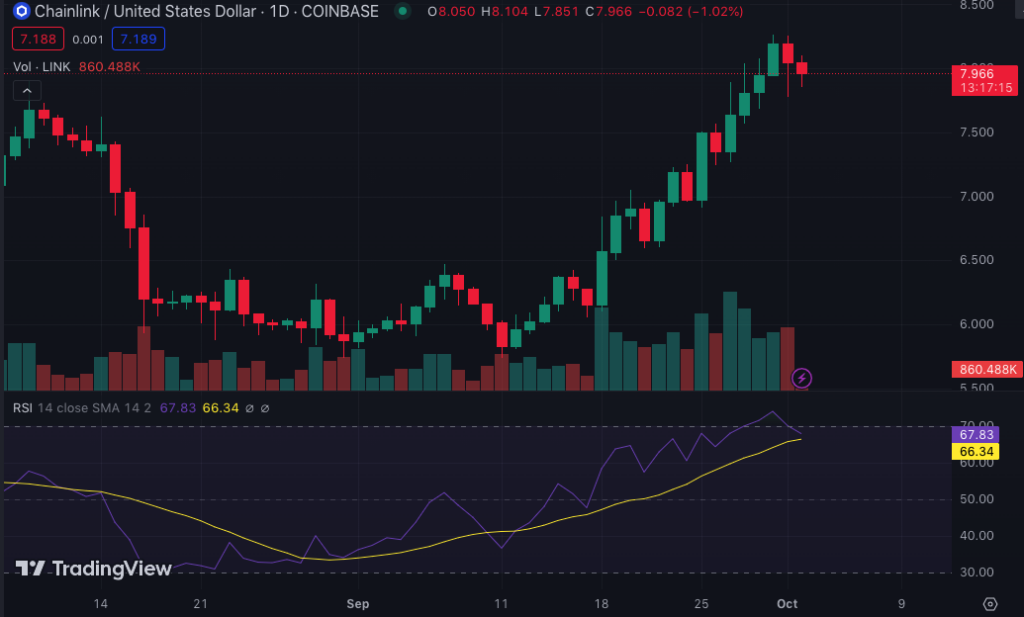 Arbitrum (ARB)
For ARB, its price was able to rise as high as $0.97 thanks to increased buying pressure and whale actions. Additionally, the Moving Average Convergence Divergence (MACD) was 0.008. This is a sign that upward momentum is increasing. While the blue line is well above the orange dynamic line, ARB could reach and possibly exceed $1 if sellers do not take control of the market.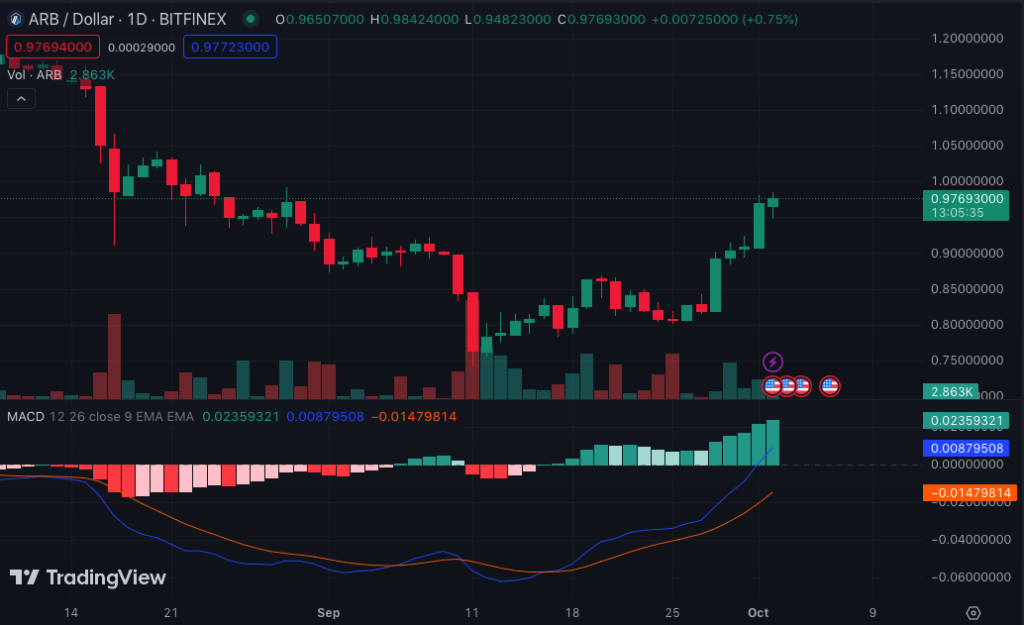 Cosmos (ATOM)
The ATOM/USD 4-hour chart was in a similar situation to LINK and ARB. With increasing buying pressure, ATOM's $6.94 support pushed the price up to $7.57. Although there is minor resistance at $7.57, it has pinned ATOM back to $7.53.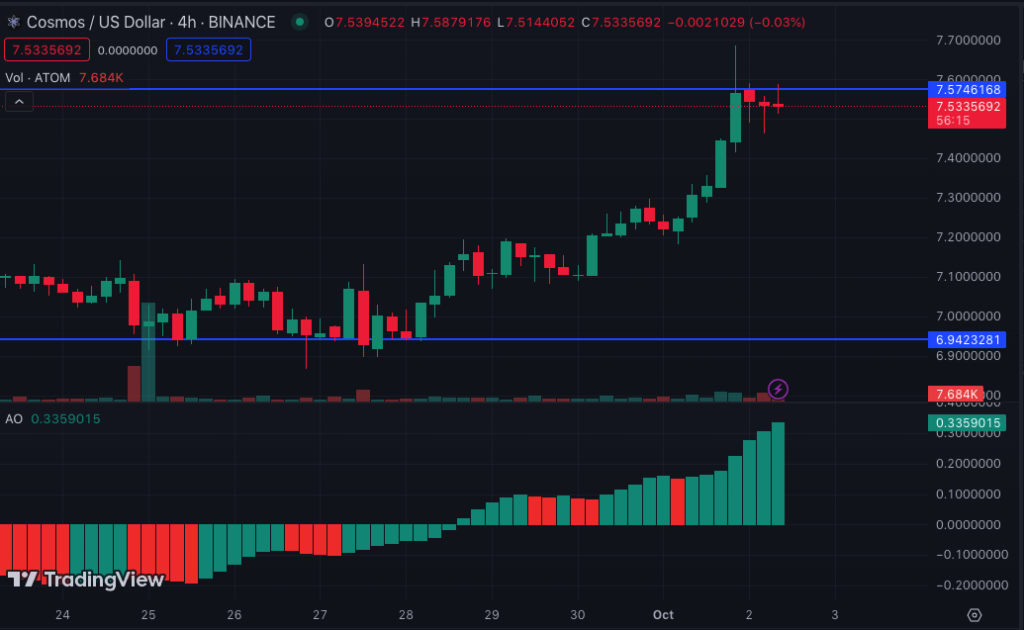 Regardless of this, the Awesome Oscillator (AO) was positive at 0.33. The positive value is evidence that bullish forces are currently driving the market. Therefore, ATOM is likely to recover quickly from $7.53 and possibly push the price towards $8.